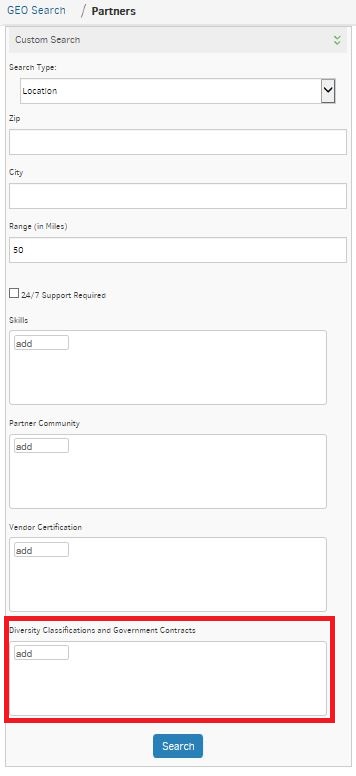 Want to bid on a government contract or have an opportunity that requires a diversity classification or security clearance? IM Link can help connect you with partners that meet these important classifications.
To search for service providers with these designations, log in to IM Link and select the Geo Search option. Then, enter in the service area zip code and enter your diversity classification or security clearance needed in the field highlighted in the image to the left.
Don't forget, our new bid queue capabilities and profile searching will help you to find the partners and pricing you need faster.
Sample Diversity Classifications:
GSA Schedule
Tribally-Owned
Veteran-Owned Small Business
Service Disabled Veteran
Veteran
Women-Owned Small Business
ITES-3H
SEWP
Security Clearance Levels:
Top Secret
Secret
Classified
Questions?
For more information on IM Link or help with searches in the tool, contact our dispatch team at imlink@ingrammicro.com or 1-800-235-4128.