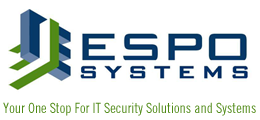 Headquarters: Willowbrook, IL 60527
ESPO Systems is committed to helping their partners operate their networks with higher performance, security and reliability.  As a client, you will personally consult with one of their industry experts to review all the options in order to identify the best security solutions available.
ESPO Systems has over two dozen security engineers and instructors that perform an average of 20 installations per week which enables the ability to identify current trends. This feedback loop is leveraged to streamline services, improve the ESPO experience and enable a timely sales quoting process ranging from SMB to Enterprise.
Specialties: 
• Mail Security
• Web Security
• Firewall & Network Security
• Intrusion Detection & Prevention
• Security Solutions Implementation
• Security Event & Log Management
• Data Leakage Prevention (DLP)
• Security Assessment
• Vulnerability & Patch Management
For additional details about ESPO Systems, Sign in to the Link portal.